Team of the Week is back for a fifteenth week in FIFA 21 Ultimate Team and goes live TODAY!
TOTW 14 wasn't one to remember with Marcus Rashford, Yannick Carrasco, Joao Cancelo and Casemiro being the stand out picks.
Players will no doubt that the first TOTW of 2021 will be an exciting one, with a number of exciting players in line for an upgrade including Cristiano Ronaldo, Jadon Sancho and Joshua Kimmich.
As some leagues entire domestic cup competitions, who performed in the last league gameweek?
Here's what we know about TOTW 15 in FUT 21!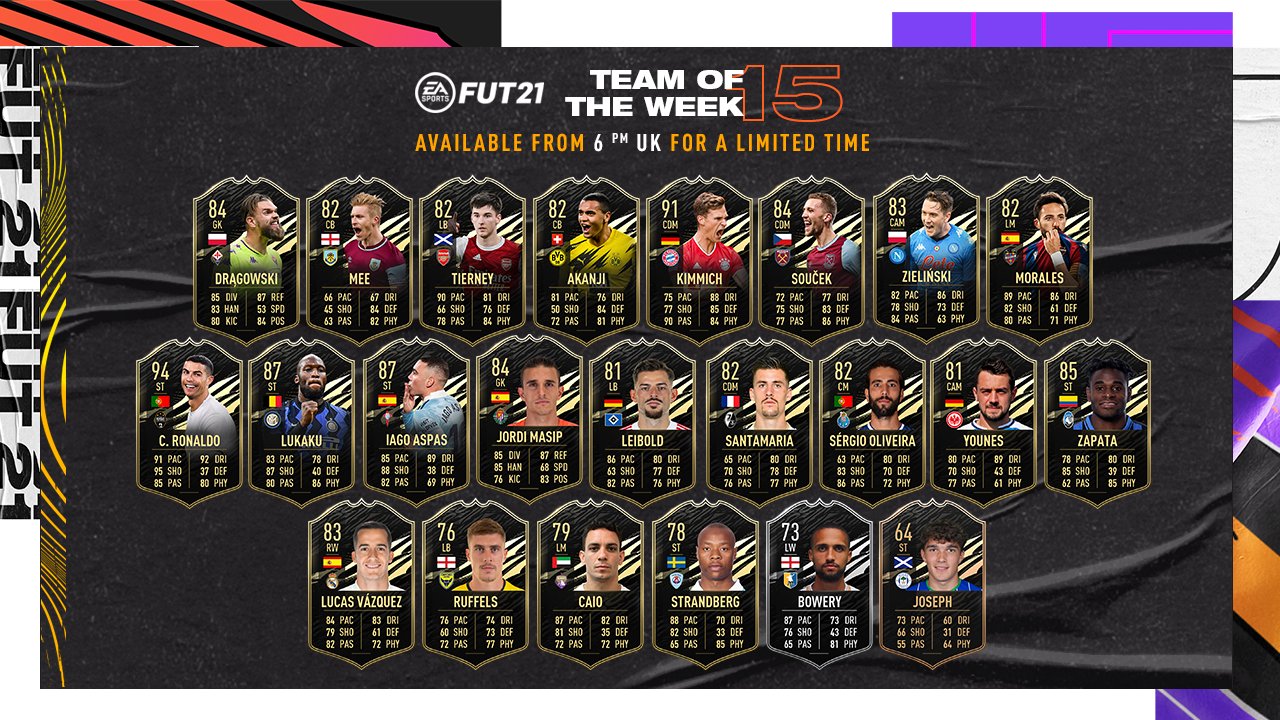 The latest TOTW will be posted here at 6pm GMT when the new TOTW is announced.
Team of the Week 15 Prediction
TOTW 15 has the potential to be one of the best TOTWs we've seen so far in FUT 21, with a potential 94 Cristiano Ronaldo headlining the squad!
Gianluigi Donnarumma - 86 GK
Despite having a higher rated Record Breaker item, Donnarumma should be in the running for an IF this week after making 5 saves, keeping a clean sheet and earning the MOTM award in Milan's 2-0 away win over Benevento.
De Marcos gave an all important assist to Iker Muniain in Bilbao's 1-0 home win over Elche on Sunday, and could get in given that RB options were few and far between.
A pretty safe inclusion this one, with the Scot bagging an incredible solo goal, as well as an assist and a clean sheet in their 4-0 away win over West Brom.
Continuing on with the Premier League theme, we have Ben Mee, who scored the winning goal in Burnley's 1-0 victory against Sheffield Wednesday.
Pierre-Emile Hojbjerg - 85 CDM
While both Kane and Son had very good performances, both getting a goal and assist, Hojbjerg may be the one to receive the IF for Spurs' 3-0 triumph over Leeds, given his high match rating. Alderweireld could also realistically make it in with his goal and a clean sheet.
A Manchester City IF is on the cards this week after they thrashed Chelsea 3-1 at Stamford Bridge. Anyone from Gundogan, De Bruyne or Foden could make the cut, all getting on the scoresheet.
Another big win for the Bayern boys on Saturday with Mainz their victim in a 5-2 victory. While Lewandowski may have earned 2 goals and an assist, one of the goals was a penalty, so we favour Kimmich, who secured a goal and assist and had an exceptional match rating!
A goal and assist for Sancho in an important 2-0 win against Wolfsburg could be enough to secure his first IF of the year!
Not too many goal scorers this week, meaning Rafa could earn an IF after his goal and assist against Portimonense from last Tuesday.
Zapata looks like a guaranteed IF this week after scoring a brace as well as chipping in with an assist in a 5-1 thrashing against Sassuolo on Sunday.
Cristiano Ronaldo - 94 ST
Yes, it could be happening! CR7 looks like a very possible inclusion this week after scoring twice and assisting once in a 4-1 home win over Udinese.
While usually, only a hat-trick would guarantee a player like Ronaldo an IF, with fewer attacking options this week, he could easily make it in!
Masip - 84 GK
Iago - 81 LWB
Soucek - 84 CDM
Zielinksi - 83 CAM
Asensio - 84 LW
Morales - 82 LM
Ocampos - 84 RW
Darida - 81 CM
Ruffels - 78 RB
Strandberg - 78 ST
Ducksch - 78 ST
Joseph - 62 ST
Missed last week's TOTW? Here's what was on offer!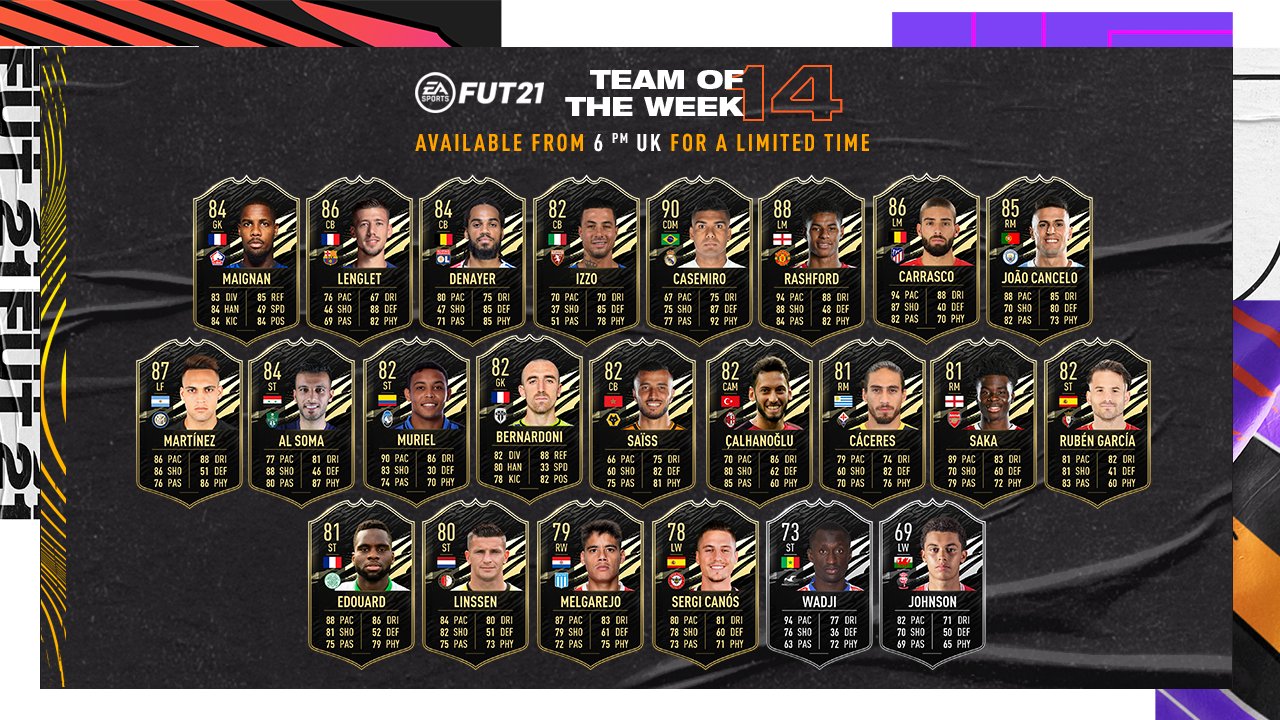 How To Get In-Forms And Make Money Fast
The only way to get in-form cards is by either obtaining one in a pack or buying one off of the market place.
To increase your chances of getting an in-form, you can open more packs. The more expensive the pack is the higher probability of packing one (but the chances of getting one is not guaranteed.
SBC packs are usually far more lucrative than the regular packs, so if you can complete some of the SBCs, you may get lucky.
Throughout the year, EA usually releases a TOTW SBC that will grant your a random in-form item from all of the previous weeks of FIFA.