Headliners Team 2 arrives TODAY in FIFA 21's Ultimate Team and will be the last team before FIFA 21's TOTY arrives.
Headliners is a promotional event, that has been a promo in FUT for the last 2 years and is centred around players that have been on an exceptional run of form in the season so far.
With so many tasty cards potentially on the horizon, there's plenty to get excited about.
With TOTW 15 releasing this week, we could see some last-minute upgrades!
Here's all the news on Headliners, what they are, how they upgrade, card designs and all the content you can expect to see throughout the promotion.
Click the links below to read all about Headliners:
Headliners Team 2 - 8th January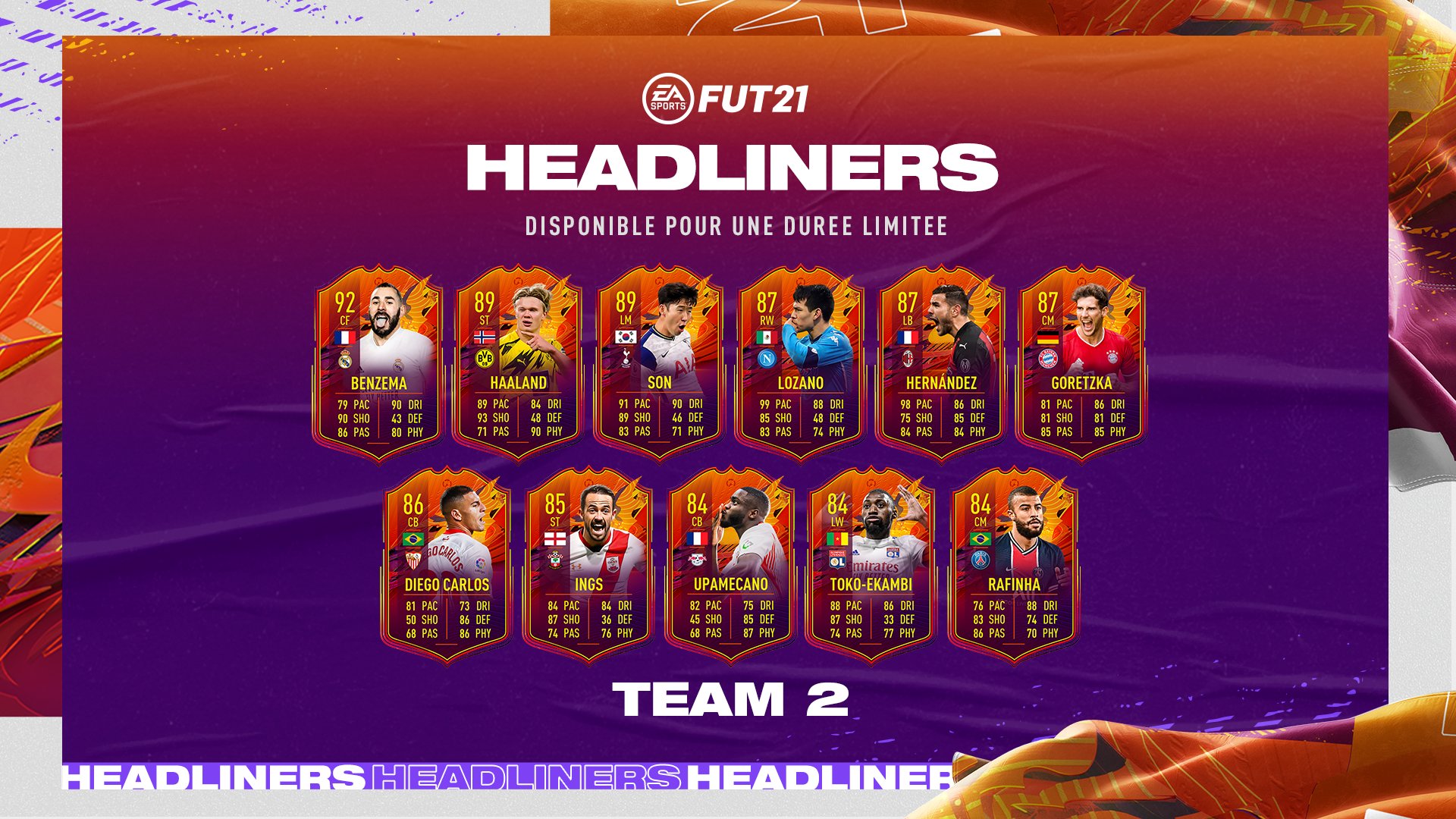 The Headliners Promo is an event designed to acknowledge and reward players that have been in exceptional form in the current season so far, giving them boosted, dynamically upgrading cards that always stay at least 1 rating ahead of the next performance based in-form, with the potential of further upgrades should their team go on strong runs of form in domestic league competitions.
Headliners will feature a selection of high rated cards without doubt, as many will have already had a couple of IF upgrades thanks to their strong runs of form already this season.
The event kicked off on Friday, January 1st.
This means that Team 2 will arrive on the 8th January.
Given that TOTY should be around the corner though, we'll have to wait and see if we get a 1 week, or 2-week promotion; although most promos run for at least 2 weeks.
Last year in FUT 20, we didn't see Headliners arrive until after TOTY, running from Jan 17th to Jan 28th, but given this year's later start, it's understandable that we're getting a couple more promos before the big event.
How Do Headliners Cards Upgrade?
When a Headliner card is initially released, they'll be released at one in-form upgrade higher than their latest performance-based in-form (TOTW, MOTM, Hero, Record Breaker or Team of the Group Stage), promo cards such as Rulebreakers or Freeze will not count.
Headliners cards are dynamic items, meaning they have the potential to upgrade throughout the remainder of the season, similar to OTW cards, however, they upgrade slightly differently.
Headliners cards will always stay one in-form upgrade ahead of their next highest performance-based in-form card, meaning if they receive another performance-based IF, the Headliner will automatically upgrade one boost higher.
In addition to the standard performance-based dynamic upgrades, Headliners cards can also get another, one-time upgrade if their team wins 3 back to back domestic league wins during the rest of the current league season, in which case they'll now be 2 upgrades ahead of their next highest performance-based in-form!
It's worth noting, that a player has only been eligible for a Headliners card in past FUTs if they:
Have had at least 1 performance-based in-form this season
Do not have an existing dynamic item such as a Ones To Watch card
Do not have a TOTY card (won't be an issue this year as Headliners is released beforehand)
The Headliners cards have been announced on social media after being found in the code! On the left-hand side, we have the Base Headliner card, which will be what is released into packs at the start of the Headliners promo.
On the right-hand side, we have the Upgraded Headliner card, whereby a card receives an upgrade after their team wins 3 domestic league games in a row.
91 Bruno Fernandes
88 Fabinho
87 Ben Yedder
87 Wilfried Zaha
87 Oyarzabal
86 Joao Felix
86 Bamba
86 Henrik Mkhitaryan
86 Hradecky
85 Hinteregger
84 Amavi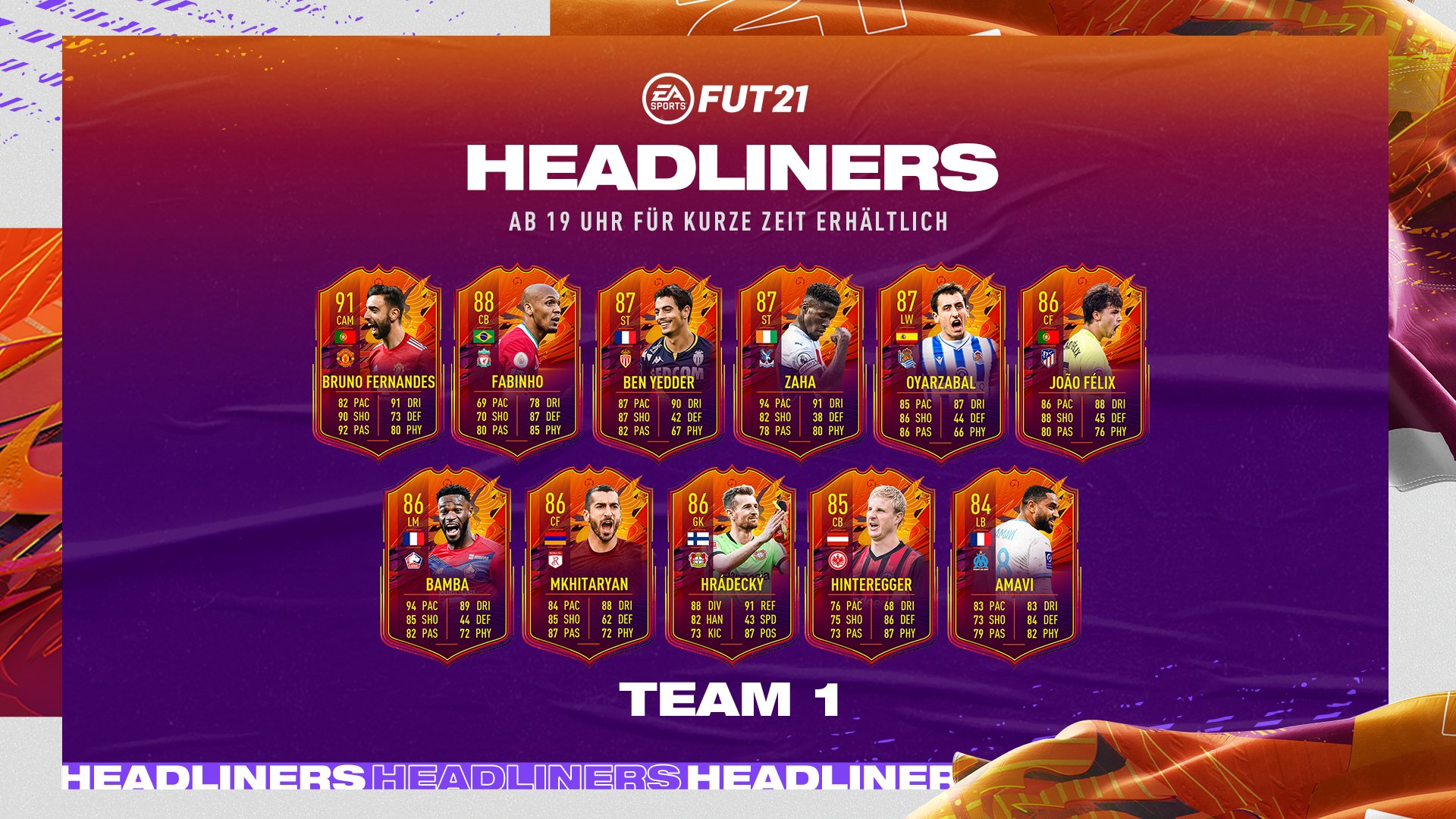 We will update this once Team 2 goes live! Be sure to bookmark this page and check back regularly.
You can check out our predictions for this year's Headliners Team 2 predictions below:
Other Headliners Expected Content
Being a relatively heavy promotion driven towards pack sales, the Headliners squads are the main attractions, however, we can still expect some other content, including:
TOTY Nominees & Voting
Headliner & Other Player SBCs
Headliner Objectives
Upgrade & Pack SBCs
Promo Packs
We can't forget that Team of the Year is getting closer and closer, with releases coming in early January every year. Given that we haven't had any voting yet, it's very likely that we see TOTY Nominees released into packs alongside the Headliners cards, with TOTY voting commencing.
Headliners & Other Player SBCs
Player SBCs will be another staple of the promotion to compliment the squad of players already in packs. Last year we saw a number of Headliner SBCs released, including Adama Traore, Chris Smalling, Dele Alli and Tammy Abraham.
We also had other Player Moments and Flashback SBCs released, including Flashback Alexis Sanchez, Diego Costa and Mathieu Valbuena, as well as Player Moments Kenny Lala and Leroy Sane!
As has been the case with all the promos up to now, expect to see some Headliner Objectives released throughout the promotion for some free-to-earn cards. Last year we had both Orsic and Plea released as Headliners objectives, as well as the Headliner Plus objective which rewarded a 50,000 coin Rare Players Pack.
Accompanying the Player SBCs released throughout Headliners, be on the lookout for other pack SBCs, as well as Upgrade SBCs to give players a shot at packing the Headliners cards available.
Promo Packs will also be a staple of the event, with lightning rounds at peak times around the release of the Headliners squads, and daily store refreshes of high value packs.