Get ready Cyberpunk 2077 fans - the 1.1 patch update that is imminently due at some stage in January.
With CD Projekt Red announcing the update to arrive in the next 10 days (from the 13th January) we could receive it any day now.
Since launch, the game has been littered with bugs and issues that CD Projekt Red has vowed to fix and rectify the rocky launch that wrapped up a dismal 2020.
We've already had six major patches in the space of a month of its launch, suggesting what state the game was in; making the game unplayable on some platforms.
If you're playing on Xbox One or PS4, you may have already refunded the game, but if you're sticking with it you'll be looking forward to the developer's January and February patches which are aimed at fixing performance on those platforms.
Here's what you can expect from Patch 1.1 in Cyberpunk 2077.
Click the links below to read about the Cyberpunk 2077 patch.
Update Roadmap - 13th January
Cyberpunk 2077 has revealed its update roadmap, including a look at the next two patch updates.
They also confirmed the update will arrive in the next 10 days.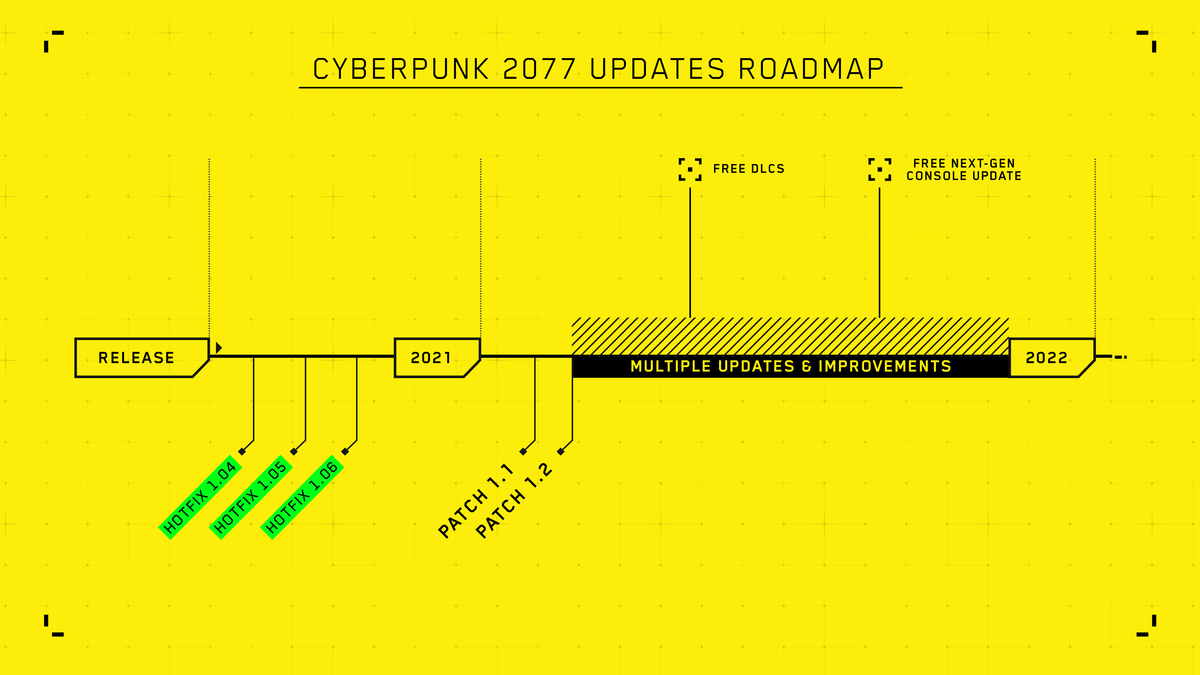 Cyberpunk 2077 Is Losing Players FAST - 6th January
Over the course of three weeks, Cyberpunk 2077 has lost 79% of its initial concurrent player count; according to Analysis from GytHyp.
It is worth bearing in mind that the game had over a million concurrent players on the platform at launch.
While it's still at a comfortable 150,000+ concurrent players, CDPR will no doubt want to push out an update fast.
The 1.1 patch is scheduled for release in January 2021.
CD Projekt Red confirmed that once they are back after the holidays, they will continue working on game improvements including two big patches.
While many had hoped the patch would arrive before the start of 2021, it's worth remembering that the team is likely working long hours to finish the update.
Still, the patch has been earmarked for January, with another one slated for February. Here's hoping for some news soon.
If we were to guess, we'd expect the update to arrive towards the end of the month. CDPR will be eager to get out a big fix as users are dropping off the game rapidly and they had ample time before the Christmas break to sort something out.
What To Expect In Future Updates
CD Projekt Red have a good track record for post-launch support and they've obviously dedicated themselves heavily to getting Cyberpunk 2077 to a point at which they are happy.
So what have they done in the past?
With the Witcher, the game released back in 2007 and updated with four major bug-fixing patches.
The free Enhanced Edition released in 2008, incorporating all prior fixes while overhauling many models, animations, and improving translations.
Three years later, the Witcher 2 launched followed by four patches.
Patch 2.0 introduced an entirely new tutorial, a higher difficulty level, and a combat arena mode.
Fast-forwarding to Patch 3.0, the free Enhanced Edition incorporated prior fixes while adding new quests, cinematics, locations and cutscenes, along with more fixes.
This was then finalised with four smaller patches allowing for mod support.
Launching in 2015, the game had received 18 patches over the space of a year.
Patch 1.30 launched alongside the GOTY edition, which had all DLC, both expansions and many more fixes.
Consoles received more patches to improve performance on Xbox One X and PS4 Pro.
December: Patch 1.0, 1.01, 1.02, 1.03, 1.04, 1.05, 1.06
January: Expected to see 1.1
February: Expected to see 1.2
Cyberpunk 1.1 Patch Notes
It's expected this new patch will dramatically overhaul the game and make it a much smoother experience on the Xbox One and PS4.
Here are the patch notes so far:
Fix bugs
Fix crashes
Improve overall experience
Fix prominent problems on last-gen consoles
Bring last-gen experiences closer to PC and next-gen experiences
From CDPR's apology, it sounds as though 1.1 (assumedly the January patch) will be focused on Xbox One and PS4 base consoles, although expect fixes for PC and next-gen players, too.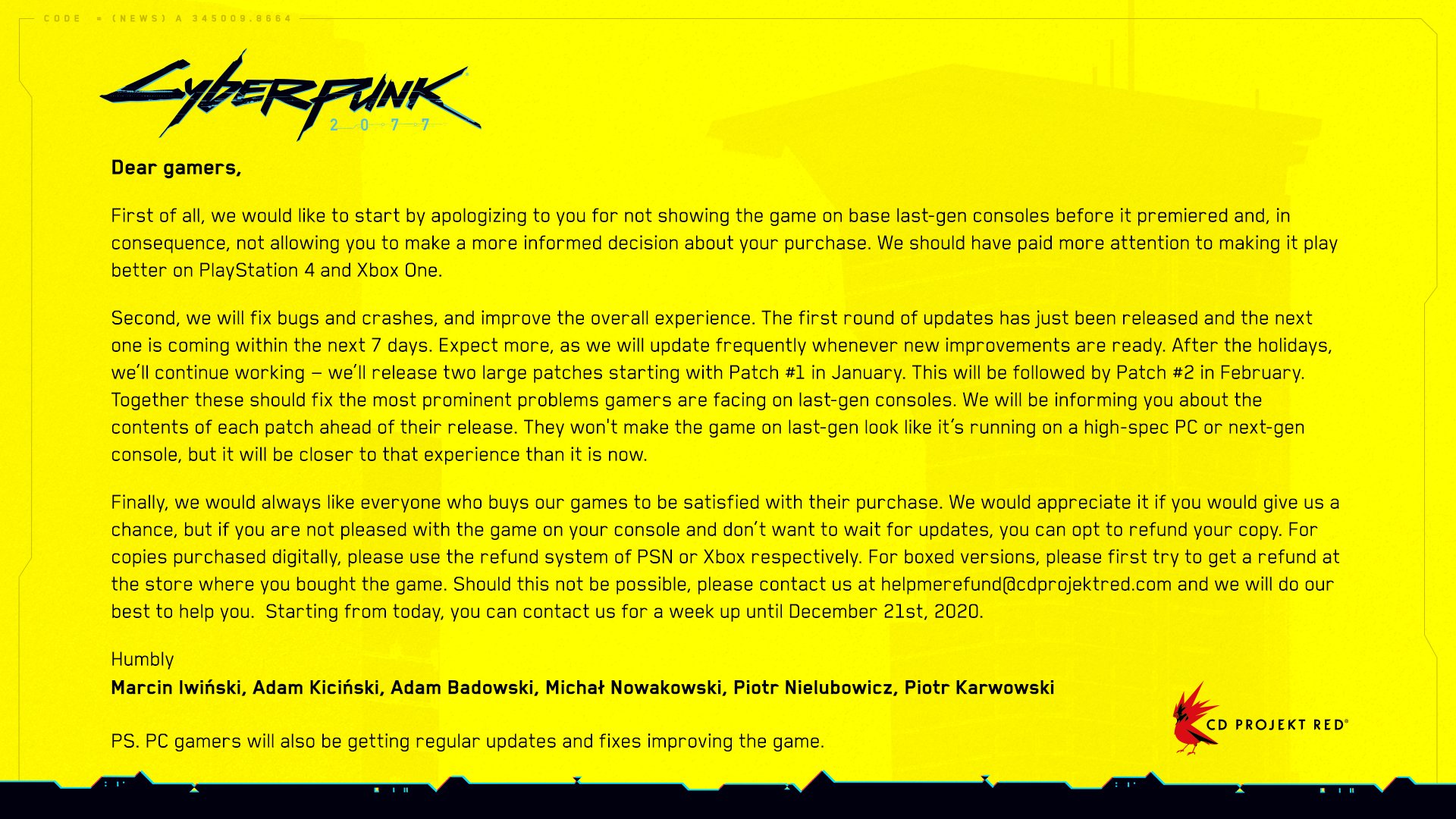 It's worth noting that while the game is getting next-gen enhancements, there's a very good chance those will be delayed while the team works on the existing console versions.
We'll be collecting some of the best glitches that the community has encountered that could be getting fixed in the next update.