With Black Friday around the corner, it's time to start looking forward to the potential Best of Team of the Week release that we've had every year at Black Friday.
The Best of TOTW squad comprises the best players from all the previous TOTW releases up until Black Friday, and is released alongside the regularly scheduled TOTW from the weekend's fixtures.
Best of TOTW is now live and you can see who's included below!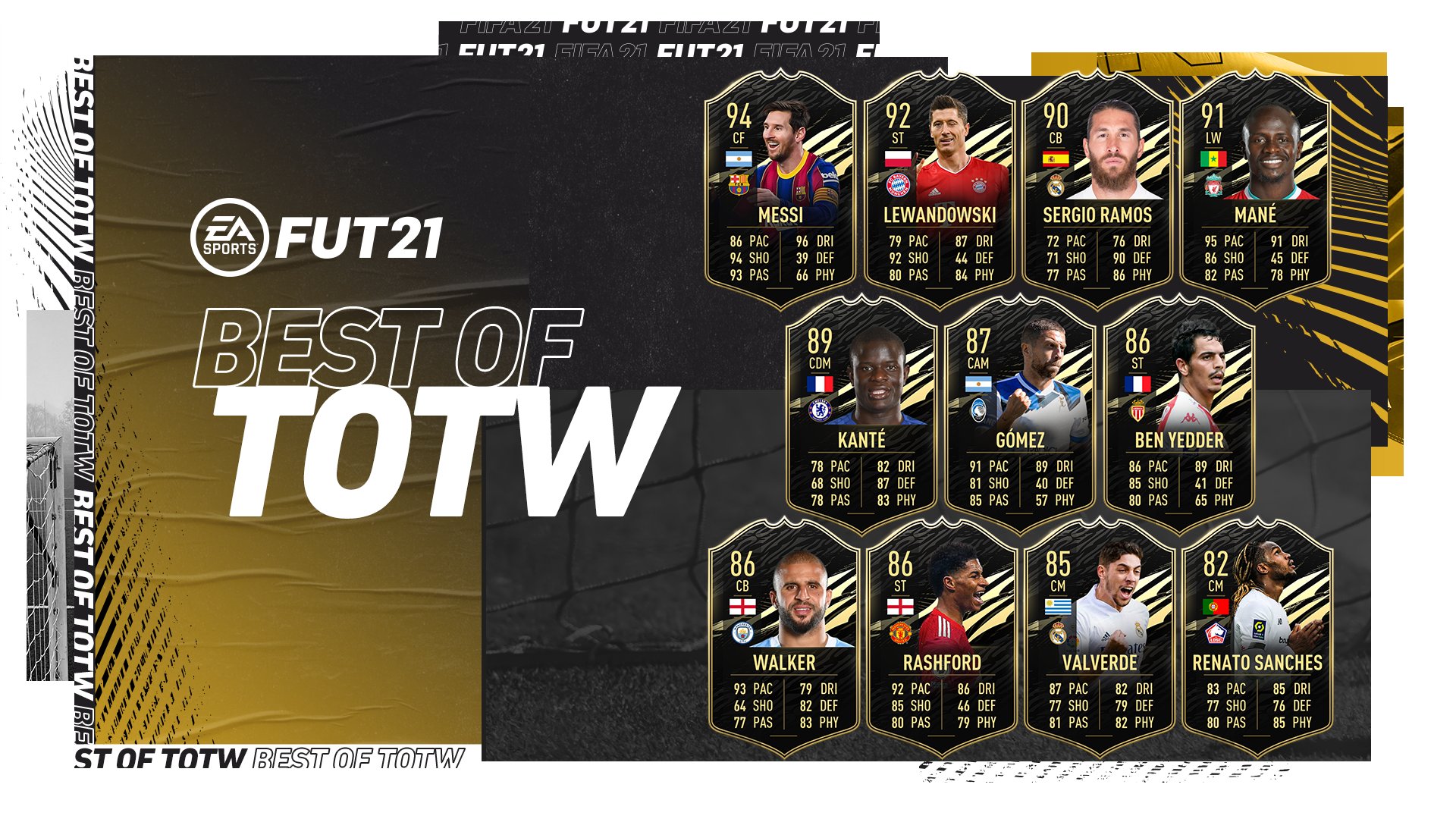 94 Lionel Messi
92 Robert Lewandowski
91 Sadio Mane
90 Thibaut Courtois
90 Sergio Ramos
89 Bruno Fernandes
89 N'Golo Kante
87 Gomez
86 Marcus Rashford
86 Kyle Walker
86 Wissam Ben Yedder
85 Federico Valverde
When it comes to best of TOTW, it's hard to leave out the best In-Form item we currently have, Messi will be in the selection without a doubt!
While not necessarily the highest priced player in the squad, a 92 Lewandowski has to be in the running for a best of TOTW shout.
While only recently released in TOTW 08, Sadio Mane could see a re-release for best of being the 3rd highest rated and highest priced IF released so far in FUT 21.
A goalkeeper selection is likely for the squad just to average out the players available, and Courtois would fit the bill, being the best shot stopping TOTW card dropped in FUT 21 so far.
We expect Ramos to get an inclusion in the best of TOTW selection given his high rating and the fact that he was included in TOTW 03, it might be time for some more supply on this card.
There has to be some GGMU in the best of TOTW squad, Bruno Fernandes is a high rated and very desirable card, and could serve as a nice additional Portuguese walkout with IF CR7 potentially coming to packs.
Another inclusion from the newly released TOTW 08 squad, but it's hard to not include Kante in a best of TOTW squad given how desirable his card is.
The 2nd most expensive IF this year, Marcus Rashford would certainly help sell packs again after his inclusion in TOTW 04.
Either Kyle Walker or Joe Gomez could make it into the best of TOTW squad, with both English central defenders being highly sought after cards in FUT 21.
Everyone's favourite Monaco man, Ben Yedder could get a re-release seeing as he's a very meta card. Furthermore, it's been a fair while since he's been in packs, being released way back in TOTW 01.
While Fede Valverde may be the 3rd Real Madrid inclusion in the best of squad, he could easily get in being a very popular card in FUT, serving as a mid-tier option to pack.
How To Prepare For Best of TOTW
When it comes to getting ready for Best of TOTW, the key is to just be prepared. If you're looking to get upgrade packs completed, make sure to get them pre-made beforehand to beat the crowd and save yourself coins!
Finally, if you're looking to buy Best of TOTW players for your squad, when is the best time?
Last year, the players in Best of TOTW saw some considerable drops in price given the sheer supply of them coming both through tradeable Black Friday Lightning Round packs, but also the untradeable TOTW packs.
If you're looking to buy some of the higher tier in-forms, definitely look to wait a while until after the Black Friday promotion, as they should drop heavily over the course of the event, going through into FUTMAS.