This mysterious Halloween themed event seems to have replaced the popular 'Ultimate Scream' event.
While the idea may be very similar to last year's 'Scream Team', it may prove to have a few twists yet.
We assume that this event will operate in a very similar fashion to Ultimate Scream, bringing huge boosts to select cards in FUT 21.
Being the first major promotion of the year that introduces new, upgraded cards into the FUT ecosystem, Rulebreakers is certainly one to keep your eyes on!
We can also expect the usual objectives and SBCs to be added featuring special upgraded players.
So what's coming this year? Here's what we know.
91 Harry Kane
88 Aymeric Laporte
87 Douglas Costa
87 Dries Mertens
85 Radja Nainggolan
85 Ocampos
84 Marcos Llorente
84 Manuel Lazzari
83 Hassane Kamara
83 Denzel Dumfries
83 Benjamin Andre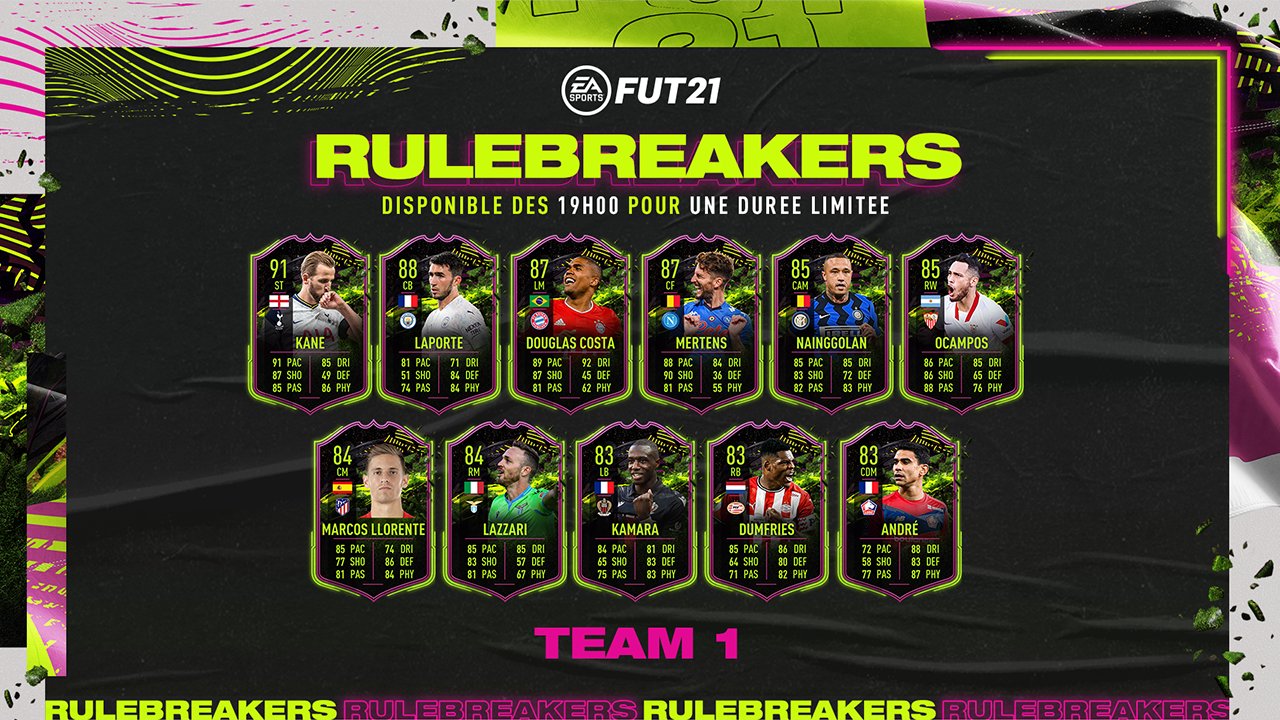 Rulebreakers leave behind their previous styles of play and transform into different kinds of stars with game-changing stat updates.
These cards will receive boosted key stats to a level that wouldn't be usually seen through regular performance-based upgrades.
Now you can play in new ways with some of your old favourites, creating variety in squad building like never before.
With an event like this taking place at Halloween every year, this promo delivers tonnes of new, high-level players into the FUT meta early on, and is, without doubt, a big promotion that you'll have to keep your eyes on.
Over the course of the promotion, expect tonnes of content to be delivered, including:
2 Rulebreakers Teams
Rulebreakers Player SBCs
Rulebreakers Objectives
Halloween Themed Puzzle SBCs
Promo Packs
Is Rulebreakers And Ultimate Scream The Same?
We believe they're not the same event, but this promo is replacing Scream Team in a bid to freshen up the milestones in the event calendar.
This is likely to be the only Halloween based promo for this year's game.
Rulebreakers Release Date
Team 1 will arrive in the first half of the promo and finish on the 30th October at 5.59pm.
Team 2 will then replace the initial squad and run until the 6th November.
The main selling point of this promotion has to be the highly anticipated Rulebreakers Team.
Over the course of the promotion, expect 2 squads of 11 to be released into packs, each for a week, containing a number of awesome players with big "supernatural upgrades."
These upgrades tend to be massive in certain stats, with people getting big Pace and Physical boosts, as well as sizable boosts to technical stats such as shooting, passing, dribbling and defending.
As you can see from last years' Ultimate Scream teams, we saw the likes of Aguero getting +8 Pace and Physical compared to his base card, making him one of the best cards in the game at the time, Ibrahimovic with a +29 Pace boost.
These are going to be some serious heavy hitters, just look at what we saw last year from the 2 Rulebreakers Teams!
Here are our predictions for the Rulebreakers Team:
In addition to the Rulebreakers Teams, we can also expect a number of high calibre Rulebreakers Player SBCs to be released throughout the promotion.
Last year saw us receive a tonne of Rulebreakers Player SBC content, with the likes of Milner, Ozil, Jesus Navas and a highly sought after Pique item released.
These are definitely worth keeping an eye out for, as many of these cards remained in people's teams for a good length of time thanks to their meta upgrades.
Another popular aspect of the Rulebreakers promotion is the regular Halloween themed SBCs that are released, containing pack and Halloween themed cosmetic rewards, such as kits, badges, tifos, and for this year, stadium customisation items.
These SBCs are typically themed around clubs with badges that have a Halloween connotation, i.e. Wolves, or Manchester United for the devil etc, making for both interesting SBCs but profitable investment opportunities.
As is the way with any promotion in FUT that has highly sought after packable players, expect a lot of promo packs to be on offer in the store on a daily basis, and potentially even some lightning rounds for packs such as 50k Rare Players Packs, or even 100k Jumbo Rare Players Packs.