Get ready to take traverse new and bizarre maps while doning some hilarious Medieval themed costumes!
Here's are the patch notes for Season 2 of Fall Guys.
Fall Guys Season 2 Patch Notes
The latest Fall Guys theme is Medieval, meaning the costumes and stages will be themed around this famous time period.
Here are the patch notes:
New Feature – The Show Selector: Time-limited Shows give players new ways to enjoy their favourite round types by selecting which show they want to play!
New Feature – Nameplates: Mix and Match customizable Banners and Nameplates to compliment your Fall Guy's attire!
New Feature – Random Outfit Generator: Press triangle on the customiser screen until you get a combination of items you like!
Improvement: See your party members fall alongside you whilst waiting for matchmaking to complete
Improvement: Fall Guys are now more responsive mantling up ledges
Improvement: Visual Updates to many levels
New Level – Knight Fever: Our hardest gauntlet level yet
New Level – Wall Guys: Cooperate with other players to traverse castle walls
New Level – Egg Siege: A brand new Egg Scramble map with moving drawbridges
New Level – Hoopsie Legends: A Solo Hoopsie Round with moveable blocks
Plethora of new customisation options: Costumes, faceplates, colour palettes, emotes and celebrations
Many bug fixes and optimisations
There's a lot to love with the introduction of patch 1.09 that brings Season 2 to Fall Guys. I'm a big fan of mantling having some subtle improvements made to it - hopefully climbing over objects will now be a little less frustrating.
Big Yeetus And Thicc Bonkus
Fall Guys official Twitter account detailed that developer Mediatonic is "working on a little something that we have been calling Big Yeetus,".
This is a gigantic hammer that will randomly appear in levels to shake things up.
It can massively change up the game by punting players across the stage.
Now they've also introduced Thicc Bonkus, a smaller rolling pin looking object that swings on a pendulum attempting to knock players off the stage.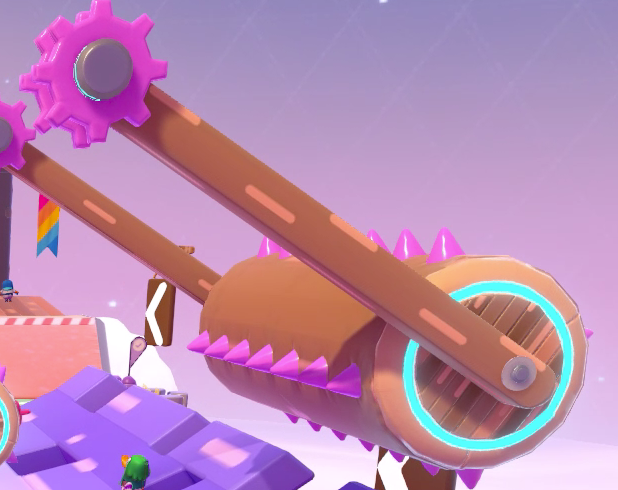 As they did in Season 1 a new pass will be added with plenty of new costumes and other rewards for you to unlock.
As expected, new costumes and stages are being added to the game.
Viking Male
Viking Female
Wizard
Witch
Dragon
Knight
YOU'RE A WIZARD HARRY: Lay waste to those muggles!
We're being introduced to four brand new stages.
While their names have yet to be confirmed, you can see them below:
KING OF THE CASTLE: Players will need to climb up and over the castle walls
A KNIGHT'S TALE: An adventure awaits for players in a long foot race with plenty of obstacles
PLAYING HOOPS: It looks like this next stage is a team game focusing on hoops
DOOR DASH 2.0?: It looks like Door Dash is back and more frustrating than before...
Fall Guys is adding a whole new meaning to 'Fall Guys'.
Now you can fall with your friends when loading into a game, rather than falling solo. It's one of the many requests that came from the community and Mediatonic were happy to listen.
Fall Guys will introduce a brand new feature called 'Interface'.
Here you can add a banner or nickname for your bean. These banners and nicknames are pre-determined, but the devs have promised to take in community suggestions.
Season 2 will now allow players to randomise their costume.
If you've collected lots of fun and interesting costumes, you may want to show them all off.
This feature now allows you to quickly select a random costume to enter the game with.