The huge, planet-eating being is widely expected to make his arrival towards the end of the season, based on comic books in the game.
But could a skin be coming, too? This is all speculation, of course, but we'll be updating this page as we hear more.
Fortnite: Galactus Skin Info
We don't know for certain but expect the "Devourer of Worlds" to be added after his appearance in the game, presumably late in the season.
Expect the skin to launch for around 1500 V-Bucks, around £10.
It's tough to picture what Galactus could come with, back bling wise, but it could be the Elemental Converter that converts matter into energy.
He's also had multiple armour variations in the comics, so his back accessory could be some kind of armour extension.
Galactus often travels aboard huge starships, but these feel a little too big to use to drop onto the battlefield.
Instead, we expect he'll use "The Punisher" (not to be confused with Frank Castle), a robot that does his bidding.
Perhaps the robot will drop him onto the map?
Ok, there's plenty of scope for Galactus' harvest tool to be something special.
For one, it could be "The Ultimate Nullifier", which can obliterate anything the wielder envisions. How that would work in-game is up for debate, of course.
Then there's the Elemental Converter again, which could harvest materials by drawing them out of structures.
Of course, with Galactus being so powerful, it could just be a case of him smashing through items with a makeshift pickaxe!
Here's hoping we can play through some cool challenges with Galactus, like hoovering up materials and the like to feed his power.
Here's something we've seen doing the rounds online: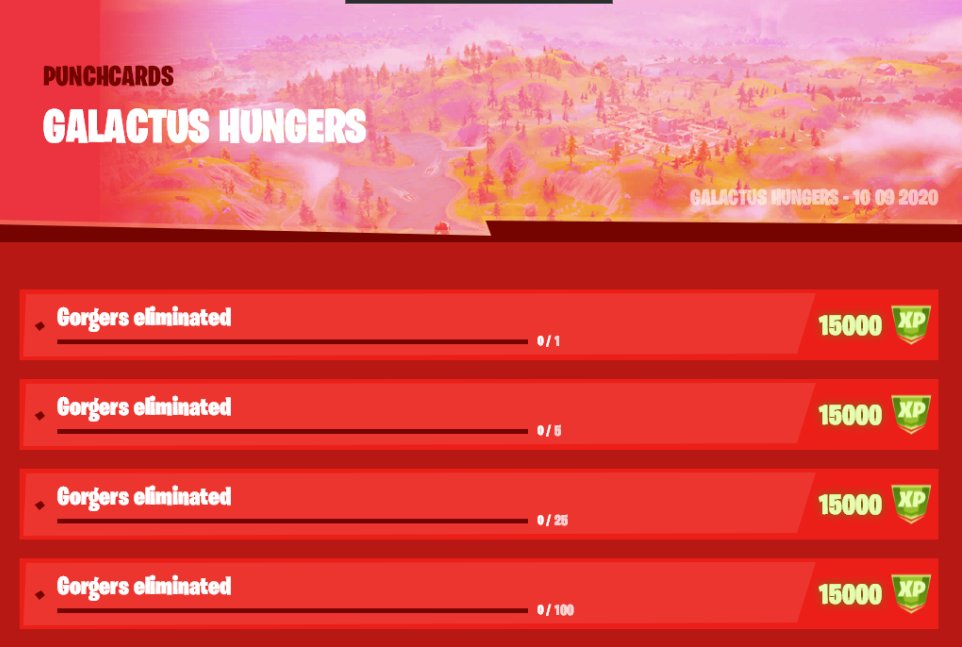 Are these for Galactus to get through? And just what are Gorgers in this context?
Galactus is known for being the size of entire planets, so we're not entirely sure how Epic would make that a part of the game.
Still, with the Ultimate Nullifier allowing him to obliterate anything in his way, he could be a tricky customer.