Season 6 of Warzone is set and ready to launch at the end of this month and could be the final season before Black Ops Cold War launches.
Before the season kicks off, there has been an ample amount of speculation regarding a live Nuke event.
Well, now it appears it is coming soon after a massive teaser in-game!
TheGamingRevolution posted a YouTube video over the weekend titled "Call of Duty Warzone Nuke Event Revealed! (Black Ops Cold War Easter Egg in Modern Warfare Season 6)"
He notes at the beginning of the video that is should be coming soon, during the start or a bit before the release of Season 6 for Warzone or Modern Warfare.
Along with noting they have played the game ahead of the reveal, all of them were also sent a mysterious package from Activision.
Included in the package appears to be a journal, a propaganda poster, and a mysterious small package that appears to be nuclear launch codes.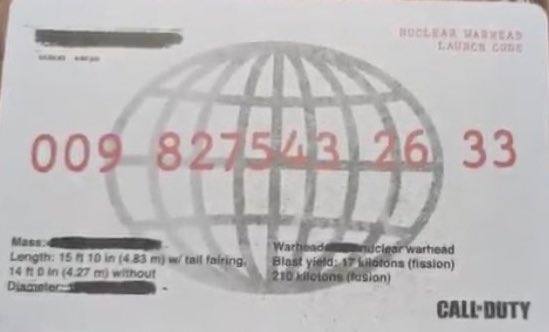 THE NUMBERS MASON: Nuclear launch codes related to the live nuke event
Besides the fact that Activision has included this set of codes in the packages sent out to everyone, it is still unknown what it ultimately means for the event.
We can assume the Nuke event will transition the Warzone map into the new Russian-themed map for Black Ops Cold War.
But, with this code sent out to creators; we can speculate it will kick-off another easter egg hunt before the event itself!
Some other information that has also been revealed on the cards were about the nuke itself:
Blast yield: 17 or 210 kilotons (fission/fusion)
Engine: 2 pulse solid-fueled rocket
Operational range: 110 miles, 200km
Transport: Airplane
One Twitter user also pointed out that it may be referring to an AGM-69 SRAM nuclear air-to-surface missile.
They chimed in with more details about the nuke:
Mass: 2230 lbs
Diameter: 17.5 in
Warhead: W69
Engine: Lockheed
Guidance: General Precision Kearfott KT-76
Accuracy: 1400 ft