With a new season comes constant changes and a new patch is being deployed to Ubisoft's futuristic battle-royale.
With a month under their belt, the team at Hyper Scape have gone away and worked on the feedback the community has provided such as controller sensitivity.
A handful of weapons are also being changed as well as a few adjustments to game modes.
The new update will be under 1GB in size for all platforms.
Downtime will last roughly 1 hour on the 3rd September at 9am ET/1pm UTC/2pm BST.
Controller Response Curve Settings
2 new settings have been added for Controller aiming:
Aim Response Curve: Classic Curve / Linear Curve Toggle (Classic by default)
Aim Acceleration: ON/OFF Toggle (ON by default)
Choosing the Linear Curve will create a direct link between input and aim speed. Disabling Aim Acceleration will remove the inertia from your aim movement and create a more predictable aim.
They've also made additional improvements on aiming/sensitivity options, which you'll find below in the Game Modes & Systems section below.
You can now access your Player Profile and other lifetime stats from the 'Hall of Champions' portal in the Hyper Scape HUB, in the Profile tab.
This is only the first step, they plan to expand in the future.
Player Reporting From The Elimination Screen
You can now report players from the Elimination screen.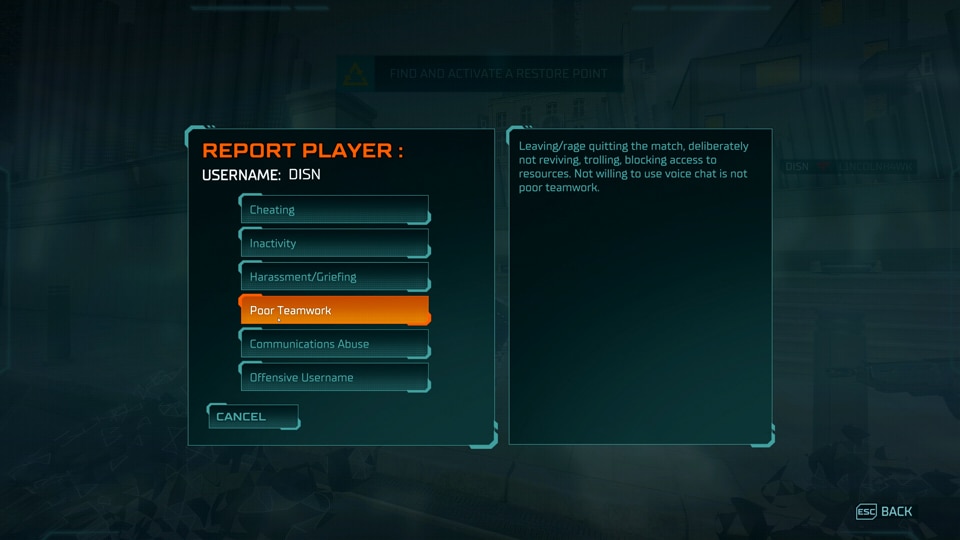 Hexfire

Clip size Across Fusion: 100/120/140/160/180 (previously 150/180/210/240/270)
Reduced overall Aim-assist

Mammoth

Damage Across Fusion: 4/4/4/4/5 (previously 5/5/5/5/7)
Clip size Across Fusion: 6/7/8/9/10 (previously 5/6/7/8/9)

Protocol V

Damage Falloff: 150m+
Added a Lens Flare when aiming at Contenders

Salvo

Reduced Grenades rebound by 20% to make them more predictable
Proximity Detonation Radius: 0.7R (previously 0.65R)

Riot One

Damage Across Fusion: 25/27/29/32/36 (previously 26/28/31/34/38)
Crown Bearer Cooldown Penalty: 300% (previously 150%)
Crown Victory Timer: 60s (previously 45s)
Crown Bearer's outline is now yellow (previously red)
Controller Aim Assist setting is now a slider (0-100) and not just an ON/OFF option.
Aim Assist for PC Controller has been reduced.
Settings for mouse sensitivity are now offering decimals values on the sliders.
Default Controller Sensitivity values have been changed (existing settings won't be affected; this applies only to new players):

Vertical sensitivity: 15 (previously 20)
Horizontal sensitivity: 15 (previously 20)
ADS low Zoom sensitivity: 40 (previously 70)
ADS high Zoom sensitivity: 40 (previously 70)
Twitch Crowncast Extension
Kudos are now bigger and displayed for a longer time (7s)
More Kudos are displayed on screen for each activation by viewers (a minimum amount of 3 will be displayed)
Game Event Rotation: 3 Events (previously 2)
Fixed an issue where players from other regions than the Americas would get matchmaking errors when not able to ping any datacenter.
Fixed an issue where long matchmaking times would occur during high loads if you were part of the last players to join in the queue.
Fixed an issue where Challenges requiring eliminations or assists would not progress or complete when using the Mine Hack.
Fixed an issue where picking up weapons from the ground would sometimes cause them to disappear.
Fixed an issue where Contenders would sometimes get stuck under the map before the Eliminated screen appeared at the end of a match.
Fixed an issue where the incorrect month was displayed during incoming maintenance messages.
Fixed an issue where thumbnails for bundles were incorrectly resized when focused on in the Weekly Shop.
Fixed an issue where the "STRING" text was present during the Crowning Ceremony screen at the end of a match.
Fixed multiple crashes and improved the general stability of the game.
Audio bug (should be fixed by Season 2)