S.T.A.L.K.E.R. 2 is finally becoming a reality and it's not just PC players that get to enjoy the fun.
After a 10 year wait, it looks like a sequel is finally on the cards.
Stalker 2 was revealed at the Xbox Games Showcase last year and many fans of the previous game were thrilled to find out the game is definitely on its way.
We've got all the information out there so far and put it together for you!
You can read about the following topics by clicking the link:
Stalker Will Feature Ray-Tracing and 4K at launch – January 18
"We're progressing smoothly, including Xbox Series X|S versions as well. The aim is to deliver the product of the highest quality possible on every platform it's announced for. With fast SSD, RTX support (both Series X and S) and 4K-resolution (Series X), we're pleased to see how S.T.A.L.K.E.R. 2 is shaping up to be the ultimate experience we've initially promised."
We're expecting the game to launch sometimes in 2021.
Stalker 2's official site states "We are not ready to disclose the release date just yet."
The game was originally meant to launch with the Xbox Series X console - so it's surely on the way soon.
Stalker 2 is a first-person survival shooter, well known for its dark atmosphere, deformed creatures and more.
Fans have been waiting 10 years for a glimpse at the game with the first announcement in 2010.
The games name isn't technically just Stalker, it's actually S.T.A.L.K.E.R which stands for Scavengers, Trespassers, Adventurers, Loners, Killers, Explorers, and Robbers.
We don't have much information on the story so far but it looks like it will follow a similar path to that of previous games.
"Bounty hunters delve deep into the Zone, driven by its treasures and mysteries. Some of them are running from their past, others are blinded by money, and some are obsessed with finding the truth behind all the mysteries. No matter what makes their hearts pump, these people are known as S.T.A.L.K.E.R.s. You are one of them."
It's been announced that not only will it be open world (finally) but the story will also be non-linear, meaning everything you do can have an impact on the present and future!
It's recommended that you play the previous title before jumping into Stalker 2, but it's not necessary.
For more, check out the game's Frequently Asked Questions below: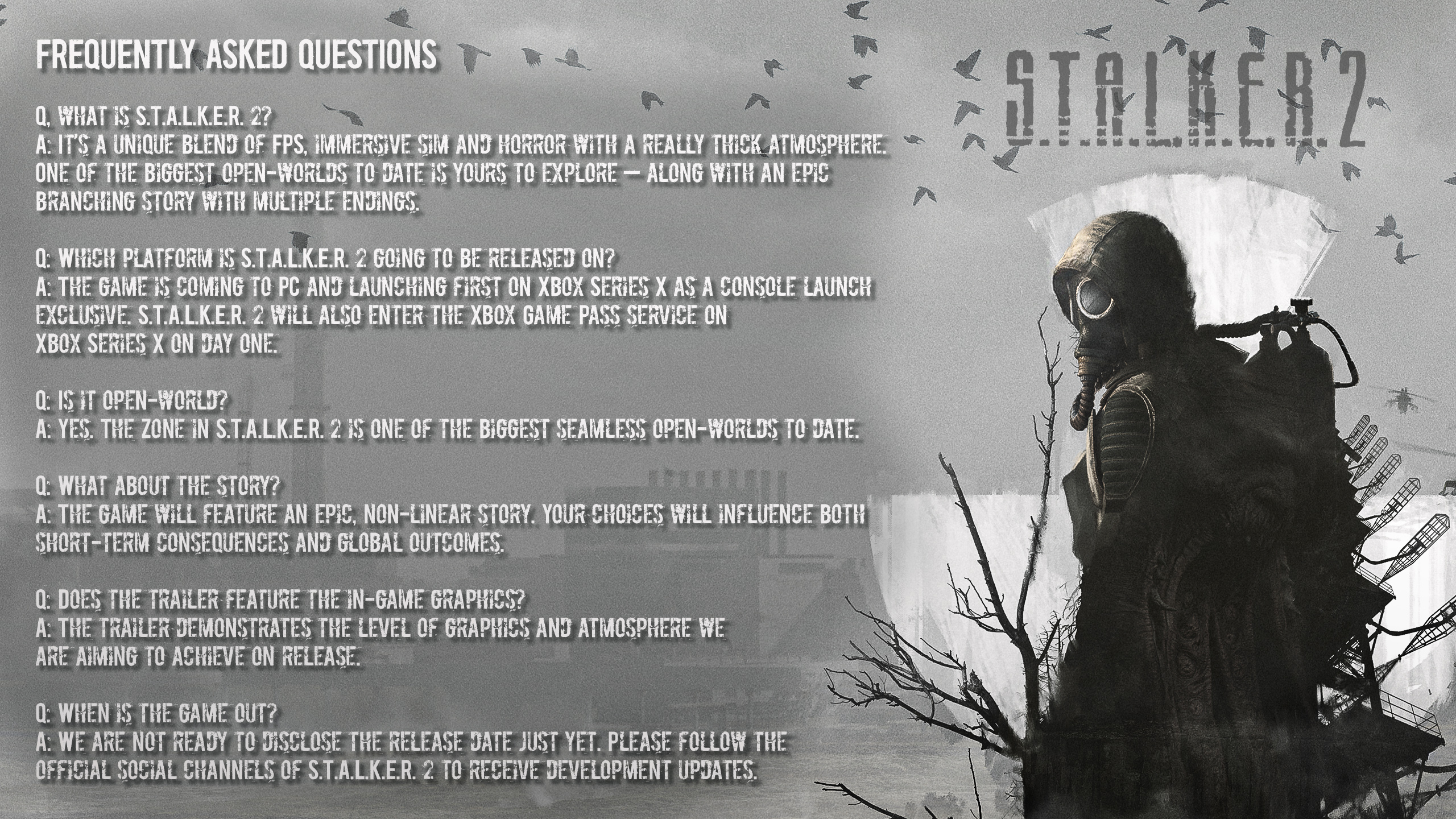 There's currently no confirmed price.
Stalker 2 will be coming to Xbox Games Pass which costs £7.99 a month on Xbox One, £3.99 on PC or alternatively you can get the Ultimate version which includes PC, Console and Xbox Live Gold for £10.99 a month.
Currently, the game is not available for pre-order.
But you can visit the order pages here:
Developer GSC Game World has since confirmed that the footage is a target render to show what the team is hoping to achieve.
The game will be available on PC as it has previously in older titles as well as Xbox due to the fact it's a console exclusive - sorry PlayStation players!
Stalker 2's official site states the PC version will release at the same time as that of the Xbox.
It will also enter the Xbox Game Pass service.
Originally, it was meant to arrive at launch but that doesn't seem to be the case.
The game is open world and "one of the biggest seamless open-worlds to date.
It will feature an epic, non-linear story where your choices will influence both short-term consequences and global outcomes.
In the most recent minute-long teaser, GSC shows off an in-game teaser trailer.
GSC Game World called this an "official in-engine gameplay teaser" which is hard to believe.
But, according to the developers at GSC Game World, this is "how the game actually feels: fast-paced change of scenery, ominous landscapes and the ever-present feeling of an inevitable danger accompanied by a barely-distinguishable guitar soundtrack."
The game will feature new Artifacts and mutants.
The Chernobyl Exclusion Zone is the setting for the next game.
It will feature new locations and old ones.
Will Stalker 2 have multiplayer?
It's unknown at this point, although some fans are eager to see it added in.
The overriding consensus is that multiplayer would be good as a co-op feature, but a full-on multiplayer may not what the community wants.
"Coop could work. But it does lessen the immersion for me when I play Dying Light in the coop for example, but it might be just me" said one user.
GSC GameWorld confirmed back in June, according to guru3d, STALKER 2 will not feature any Battle Royale mode.
According to game-debate.com, here's what they predict the system requirements to be on PC:
OS: Win Xp 32
Processor: Intel Core 2 Duo E4300 1.8GHz / AMD Athlon 64 X2 Dual Core 4000+
Graphics: AMD Radeon HD 5550 512MB or NVIDIA GeForce GT 130
System Memory: 2 GB RAM
Storage: 13 GB Hard drive space
DirectX 9 Compatible Graphics Card
OS: Win Xp 32
Processor: Intel Core i5-680 3.6GHz / AMD Athlon II X4 620
Graphics: AMD Radeon HD 4870 or NVIDIA GeForce GTX 260
System Memory: 4 GB RAM
Storage: 13 GB Hard drive space
GSC GameWorld is dedicated to supporting mods on day one, claiming to make as simple as possible.