Fishing has become a fundamental mechanic in Fortnite since it's release and it looks like it's getting an overhaul for Chapter 2 Season 5.
It provides the primary source of healing for players in the end-game of a match.
Fishing has been relatively untouched since its release in Chapter 2 of Season 1.
But every new season aims to add new things to the mix.
Let's take a look at what's new this season.
Fortnite Chapter 2 Season 5 Fishing Guide
Fishing is a handy way to grab some extra gear and is also key for completing some of the game's challenges.
How To Find A Fishing Rod
You can find fishing rods as you find weapons – in chests or on the ground, but there's also the potential to find them in barrels near bodies of water.
A fishing rod takes up a spot in your inventory, so you'll have one less slot for a weapon.
How To Find A Fishing Spot
If you head to a lake or river, keep an eye out for circles of white water with fish below. These are spots where you can fish.
How To Fish (And Catch A Weapon)
Equip your rod and hold the action button to set the angle of your cast. Once you're able to reach the centre of the fishing spot, let go of the action button (don't worry, you can recast if you miss).
Once your line is in the fishing spot, just wait for a bite. You'll see the hook go under the water, and then you'll need to reel in.
You can catch fish or weapons.
Rift Flopper > max stack 2
Snowy Flopper (Snowman?) > heals 15 & max stack 3
Zero Point Flopper > heals 15 & max stack 5
Here are the best locations for fish in Season 5.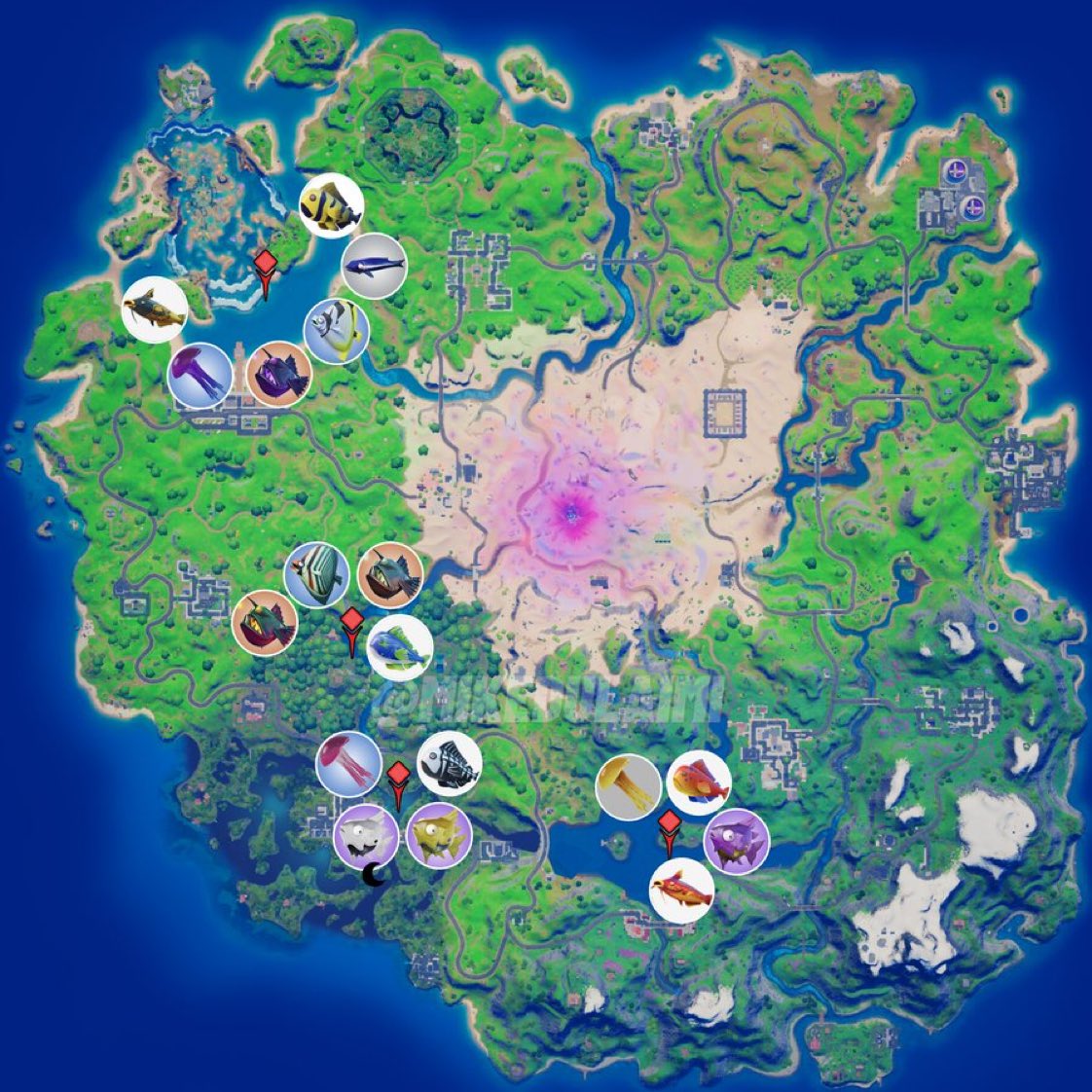 Anywhere


All normal Flopper types
Black and Blue Shieldfish
Blue Slurpfish
Blue Small Fry (Night only)
Light Blue Smallfry
Molten Spicyfish
Purple Top Smallfry
Purple and Orange Thermalfish
Silver Thermalfish
Slurp Jellyfish
Tan Small Fry

Coastal


Black Slurpfish (night only)
Black Striped Shieldfish
Chum Hop Flopper
Purple Jellyfish
Raven Thermalfish (Pro Rod)
Sky Blue Spicy Fish

Mountain


Atlantic Hop Flopper (Pro Rod)
Peely Jellyfish (Pro Rod)
Purple Slurpfish
White Spotted Spicy fish

Forest


Coho Hop Flopper
Drift Spicy Fish
Green Shieldfish
Green Thermalfish
Red and Green Thermalfish

Swamp


White Slurpfish (Night & Pro Rod)
Chinook Hop Flopper
Cuddle Jellyfish
Southern Spicy Fish
Yellow Slurpfish
Be wary that some of these fish are locations specific and others will only be available at night. Some will also require a Pro Fishing Rod to catch.
Fish can be added to your inventory, and they range from damage dealers to healing items:
Flopper - Regain 40 Health
Mythical Goldfish - Instantly kill an opponent
Rusty Can - Deal 20 damage
Slurpfish - Regain 50 Health or 50 Shield
Small Fry - Regain 25% health if health is under 75%.
Vendetta Flopper (marks nearby enemy)
Spicy Fish (speed boost)
Hop Flopper (low gravity)
Jellyfish (splash nearby enemy health and shields)
Shield Fish (gives shields)
Thermal Fish (gives thermal vision)
Midas Fish (makes all loot legendary)
Fortnite recently posted their version of a tips and tricks guide for fishing in Season 4.
iFireMonkey noticed something neat towards the end of the guide.
It appears Fortnite will be shouting out players each week who have caught the best fish!