Popular party game mode Infected returns to Call of Duty in this update and offers a new set of twists as the zombie apocalypse continues to run throughout the Black Ops 4 universe. Infected: Final Stand will see players start on teams of survivors and zombies. Survivors have a single life but can be revived while the zombies have some respawns available as they attempt to hunt the survivors before the time runs out. Teams alternate after each round with the win being awarded to the first team to win four rounds.
The Havelina AA50 sniper rifle and the M16 tactical rifle have been added into the Black Market while tuning to the S6 Stingray Operator Mod has taken place along with some other changes. The AA50 and the M16 can be unlocked through Ultra Weapon Bribes and Reserves.
The contract reward rate has been increased throughout all three modes within Black Ops 4. Players are now guaranteed at least one normal contract with a Reserve Case reward in addition to the two harder contracts that are on offer.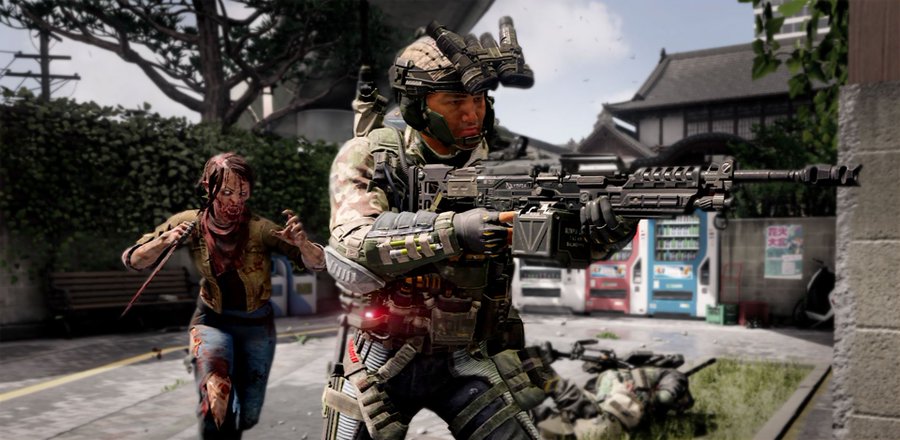 Pandemic has been added to Blackout! The new limited-time mode sees 80 players attempt to survive the impending apocalypse by outlasting a horde of the undead. Drop in with your squad to take down the opposition and if you fall, get your sweet revenge as a flesh-eating zombie! Zombies have increased mobility, can stay underwater for longer durations and can take down enemies with two Hell's Retriever axes. The waves of the undead spawn in every 15 seconds and increase in numbers after each elimination.
The Tactical Bike also makes its debut in this patch, supporting a driver and an additional passenger in the sidecar. There are also three brand new Ray Gun MKII variants to find within Mystery Boxes, new wall buy weapons in every single Zombies location and new Easter eggs inspired by Zombies on both Blackout maps…
A brand-new Gauntlet is now live for Alpha Omega. "Duck and Cover" offers player 30 rounds of challenges at Camp Edward with new Nebulium Plasma, Calling Cards all up for grabs.
Fans of the Aether story can now find the Ray Gun MKII in Mystery Boxes in "Blood of the Dead" and "Classified" The weapon has been tuned in order to help you conquer the undead even more efficiently than before.
There has been a major weapon tuning update to Zombies, with the Rever C86, Argus and Locus all receiving an increase in damage.
For full information on patch update 1.22, check out the complete patch notes here.